New Year
Ring in the New Year
With unlimited food, beverages and craft beer!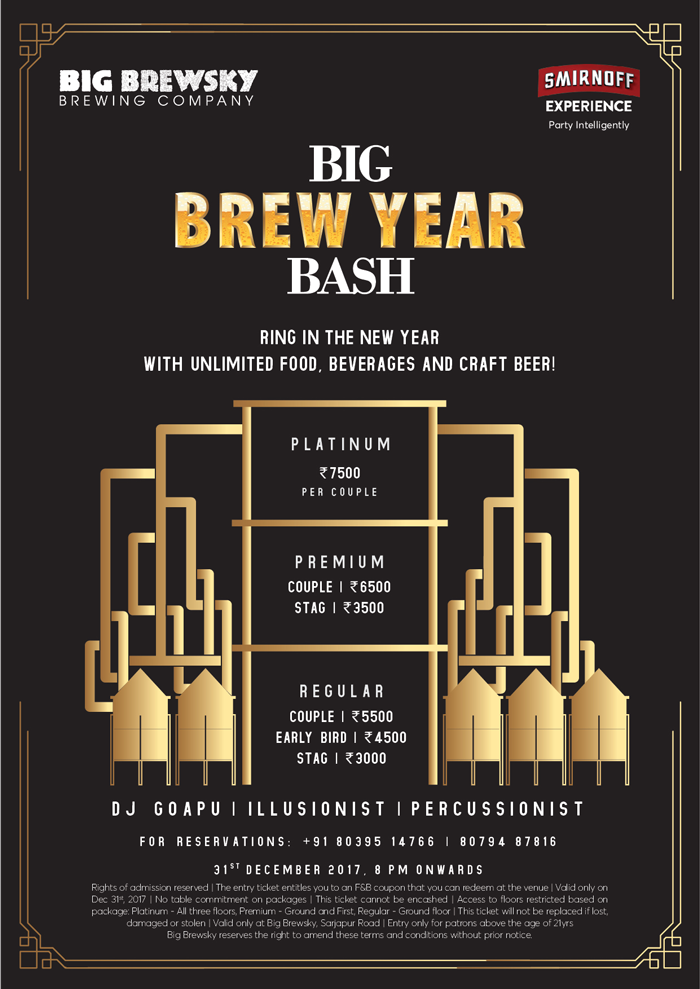 The Big Brewsky Brewing Company (Sarjapur) presents the blockbuster BIG BREW YEAR BASH!
Join us from 8 p.m onwards as we bring the curtain down on 2017 in true Big Brewsky style.
If things start to disappear, reappear and simply stand on their heads, it won't be just the booze talking - famed illusionist and mentalist Aakarsh Bhat is set to defy the laws of physics and reality at the biggest bash in town. Joining him with his own special brand of African Tribal Trance will be virtuoso percussionist Ganesh Govindasamy of the Beat Gurus (and his djembe). And if that weren't enough to down the house, we'll have Bangalore favourite DJ Goapu on the decks, spinning his special blend of pop and commercial beats.
Of course, it wouldn't be a party without the appropriate liquid sustenance! So choose from our fabulous craft beers or dive into one of our signature cocktails. Or if you prefer it straight up (without a twist), pick from the extensive range of premium alcohols we have on offer.
All this with a veritable feast on offer from the finest chefs in town (even if we do say so ourselves).
So what are you waiting for?